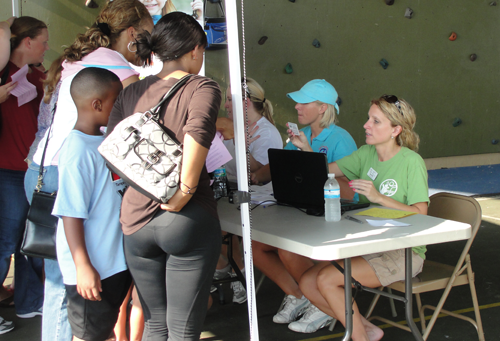 For over 1,300 area children in grades K-12, Saturday, August 13 was a day to go school shopping. Children and their parents, grandparents or guardians came to YMCA Camp Christina for the annual Back to School event.
This year's event was a little bit different. Several organizations, including the YMCA, ECHO and Metropolitan Ministries as well as several area churches teamed up for the event. According to Christy Lowe, Youth and Family Director for the Campo Family YMCA, "By combining the events, we are able to serve many more needy children and families."
Lowe further explained, "This event is unique in that each child has the opportunity to 'shop' for their supplies. They could pick out their back pack as well as the grade appropriate school supplies."
Each organization utilized technology called "Meet the Need" which is a software that allows organizations to register and manage outreach events. Each partnered organization has access to see who has signed up and what their specific needs are. Stacey Efaw, Executive Director of ECHO, "This is the first time that ECHO has used this software for an event like this. It is efficient and allows us to plan better for the event. We can see how many girls' or boys' items we will need."
In addition to using Meet the Need, the YMCA reached out to the area schools to help identify children in need to make sure that they would have the supplies that they need to start the school year off on the best footing possible.
Efaw said, "It is gratifying to be able to help so many children and to be able to provide them with age appropriate school supplies." Lowe added, "Speaking to the children and seeing their faces light up when they get to choose their back packs and supplies is a tear jerking and priceless moment for me personally."
During the event, children could get a hair cut, enjoy a hot lunch and even get their faces painted. Metropolitan Ministries was able to help families by providing them with a bag of groceries.
If you would like more information on the organizations involved in this event, please visit www.tampaymca.org; www.echofl.org; and www.metromin.org.
Despite the heat, volunteers were happy to help, children were happy to receive new school supplies and parents were grateful for the assistance they received at the Back to School event held at the YMCA Camp Christina on Saturday, August 13.