Where:
St. Andrews United Methodist Church
3315 Bryan Road
Brandon, FL 33511
USA

Cost:
$10 Individual; $5 Kids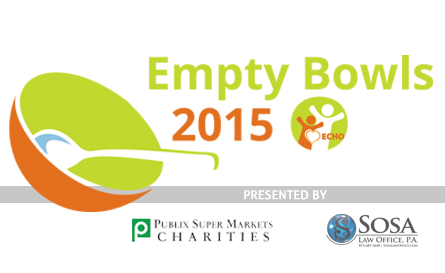 ECHO of Brandon  3rd Annual Empty Bowls Event to end hunger in Brandon. Enjoy a delicious bowl of soup prepared by the area's finest restaurants along with bread, water and dessert and help end hunger now in Brandon.
Presenting Sponsors:  Publix Super Market Charities, Sosa Law Office
HELPING NEIGHBORS IN NEED:
Hunger is all too real even here in the greater Brandon area with 1 in 4 people facing food insecurity every day. When families experience an unexpected emergency, they are often faced with the difficult decision of paying bills or buying food for their families. The Emergency Care Help Organization (ECHO) of Brandon is here to help during these stressful times.
ECHO was established in 1987 with a mission to serve residents of the greater Brandon area in need of emergency short term care (food and clothing) through volunteer assistance and donations from Brandon area residents and businesses. Since its inception, ECHO has served over 170,000 residents, half of whom are children. With only a small staff, ECHO relies heavily upon the generosity of the greater Brandon community for volunteers and donations.
ABOUT THE EVENT:
ECHO's 3rd Annual Empty Bowls will be held on Saturday, February 7  (time TBD)  at St. Andrews United Methodist Church Social Hall, on the corner of Bryan Rd and Bloomingdale Ave. in Brandon. Each attendee will sample some of the tastiest soups made by local chefs, restaurants and culinary students for just $10 for adults and $5 for children 12 and under. Attendees will come away with an understanding of the existence of food insecurity and remember this experience each time they look at their wonderfully creative bowl made by area elementary school children.
Empty Bowls has become one of ECHO's signature events.   With our community partners, ECHO will incur minimal expenses. This will allow ECHO to use the funds raised at the event to fulfill its mission of serving area residents who are in need of food and clothing.
Please join our facebook event.