Help End Childhood Hunger In Brandon
The Emergency Care Help Organization is beginning a new local grassroots Point Of Sale marketing campaign to Help End Childhood Hunger In Brandon. ECHO is seeking retailers and restaurants to join our campaign.
It is a short and easy two week commitment that has some benefits for you!
[one_fourth][/one_fourth]
Benefits for retailer/restaurant
Public image – customers like to shop in places that help the community
Free advertising – each location conducting the ECHO Pos program will be listed on our website as well as pushed via our social media. We encourage you to send us pictures throughout the campaign so that we can post them and create excitement
Create additional foot traffic – Offer an incentive like a coupon for later use in your establishment, when a customer purchases a $5.00 pin up
[one_fourth]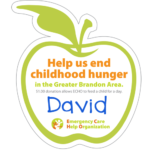 [/one_fourth]
 How does a pin up program work?
A week before the campaign, an ECHO representative will meet with your staff and deliver you the marketing supplies and a set of the pin ups.
Customers are offered the chance to donate $1.00 to feed a child in Brandon for a day or $5.00 to feed a child in Brandon for a week
They receive the appropriate pin up, where they write their name on it
The establishment collects the money and hangs that customers pin up in a very visible place
At the end of the campaign, the establishment provides a check to ECHO for amount collected. This is another great photo opportunity and will be posted on our social media.
[divider style="hr-dotted"]
Thank you for considering helping us in the fight to end hunger in the Greater Brandon Area! We would love to meet with you to discuss the POS campaign and determine when it would be a good time to host in your store.
Contact us to register your business.
[divider style="hr-dotted"]
These great locations have participated in our point of sale campaign!
Greater Brandon Beef O' Brady's
US Ameribank