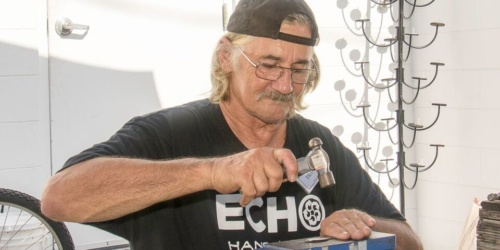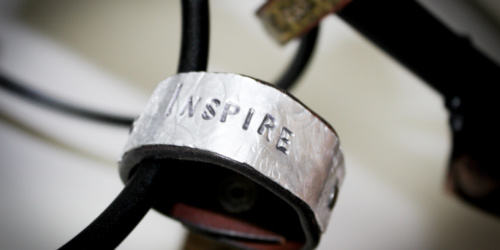 Shop ECHO Handmade Now!
Frank successfully graduated from ECHO's Job for Job program, yet, health issues and lack of a recent work history proved to be high hurdles to immediate employment.Frank signed on as ECHO Handmade's first artisan in December 2016. He received metal and leather stamping training from a local artist and took quickly to his newfound skill.Frank now works in the ECHO Handmade workshop 2-3 days a week.
Now he turns donated leather belts, serving trays and pans into artful wristbands with metal fixtures, but he can't call them bands.
"They want me to say the word, 'cuffs' because it's 'chic,'" Frank said wryly. "But I love doing what I'm doing. I work by myself, and they don't mess with me."  He continues to be inspired by the creations, and the kindness shown by the ECHO staff. "ECHO is exactly that — emergency, care, and help," Frank said. "I'm not about the emergency, but I'm about the care and help. I help anytime I can.  What's it meant to me? Happiness.
"It's a blessing."
Resources for Opportunity Abound
In the ECHO Handmade workroom, discarded bags of unwanted clothing, destined for the salvage truck, are…being transformed into high-quality accessories…while creating an on-ramp for employment for the hard to employ participants in our thriving Job for Job program…while providing much-needed revenue to purchase fresh food for our food pantry.  ECHO Handmade creates a triple bottom line!  Repurposing unused clothing, putting the harder to employ to work, and supplying food for the hungry.  What could be better than that?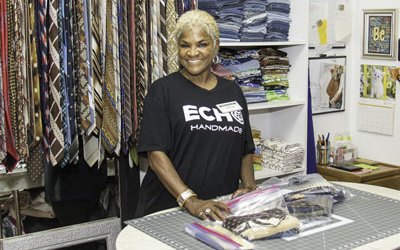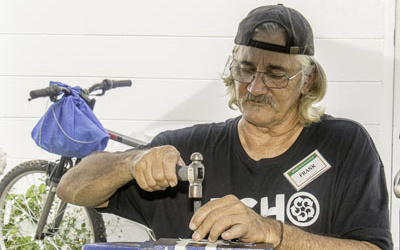 From Hard to Employ to Purpose
ECHO Handmade provides an entry into the job market for participants in our thriving Job for Job and GED programs.  While many of our participants land a job fairly quickly, ECHO has discovered that some require a structured "employment rehab" experience. Bottom line?  Through trial and error, ECHO has found that it is extremely hard for someone to leave their tent behind the Seffner Pizza Hut and go directly into the job market.  This kind of client has much larger employment hurdles than a simple resume tweak or clothing makeover.  ECHO's goal is to END hunger in Eastern Hillsborough County.  Long-term hunger can be defeated through permanent employment.  ECHO Handmade provides a nurturing environment where values and skills such as initiative, arriving to work on time, and innovation will not simply be encouraged or taught in a training class, but are experienced in the workshop and the client…now an artisan….is paid for their work!
From Press Releases to a Wearable Billboard
ECHO works hard to maintain an active and vibrant presence on social media. The
organization also enjoys a solid relationship with the press. ECHO's monthly newsletter is
shared with over 3,000 subscribers. But, ECHO Handmade accessories takes the mission of
the organization into schools, businesses, and social spaces all over our city! Each ECHO
Handmade product carries with it the story of who created it as well as the mission behind
ECHO. The accessories are not only one of a kind and useful, but are literally walking
advertisements for ECHO.