Deolinda
"God Sent Me This Place"
The Brandon Outreach Clinic referred Deolinda to ECHO, and she says the reasons were apparent.
"They sent me here because they know how I am, where I come from and that my life is crazy because I'm (relatively) new to this country," said Deolinda, a native of Mozambique.
Deolinda knew she would find clothing and food, resources to help strengthen other aspects of her life, and training in ECHO's Job for Job program that would help her gain employment. Getting a job with the help of ECHO means the world to her.
"In this country, if you don't work, you don't pay bills," Deolinda said.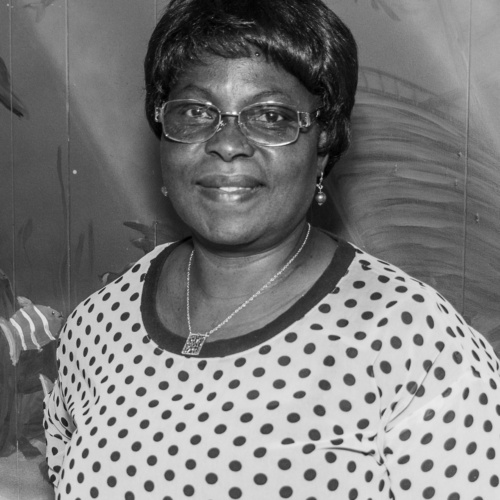 She now works as a housekeeper at an area hospital, and says ECHO has helped her with "everything." Deolinda, however, never realized she would find something more: family.
"They're very good people," Deolinda said. "I love them. It's not easy to find people like this. They try to help me enjoy the good life."
Deolinda once enjoyed the good life in Mozambique as a grocery store owner. When she fell ill, however, the people she left in charge of the store took advantage of her absence.
She eventually came to the United States in 2015 to help one of her sons raise his newborn. During that time, she has taught herself how to speak English. In Mozambique, they speak Portuguese.
"I just listen and try to speak the same," Deolinda said. "I don't know how to explain how I learned it."
Now, she lives on her own and looks to make ends meet while working through health challenges, including back pain and numbness in her hands. Despite the pain, she keeps going, inspired by the staff at ECHO. She hopes with the organization's help, she can attend school and get the qualifications to get a better job.
And every day, she's grateful for her new "family."
"God sent me this place," Deolinda says.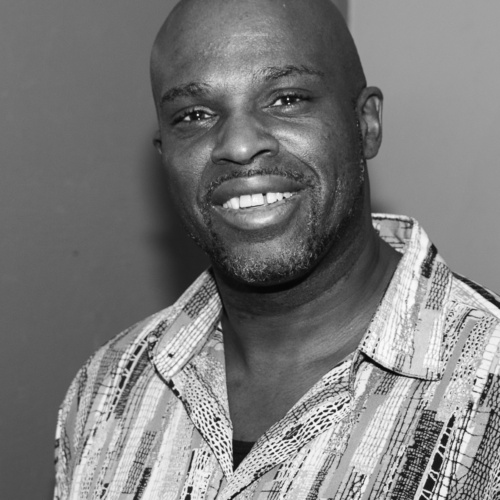 Eliot
"I want to Be a Solution"
Even in 2017, discrimination can create challenges for interracial couples.
Elliot, an African-American and disabled U.S. Army veteran, says he found himself grappling with homelessness after a landlord objected to renting to him and his wife, a Puerto Rican woman.
They arrived at ECHO late on a Friday. As the staff began to close the doors, they simply needed sustenance. He worried they would shut down instead of assisting him, but one of the staff members told him to come in and get food for the weekend. And then the staffer encouraged him to come back on Monday.
"One of the greatest things for me is that the people who work here have a compassion for other people," Elliot said. "When you're talking about social services and meeting needs and healing hurts, you can't know what that did for us.
"It meant so much to us."
Elliot's disability came from a back injury he suffered during a live fire training exercise in the Army. An error during a subsequent surgery left him bound to a wheelchair, but through his rehabilitation at James A. Haley Veterans Hospital, he regained his ability to walk.
Elliot's long-term goal is to start a church to meet the needs of others. He served as a human resource specialist in the Army and now wants to be a human resource specialist for God.
He longs to partner his future church with an organization with ECHO and meet the needs of others — just like ECHO met his needs.
"It takes special people to deal with human issues," Elliot said. "You can throw food at someone who's hungry, and they'll still continue to be hungry because they don't know how to deal with the root of the issue. This place has the insight to deal with the root of the problem so there's solutions for people in the end.
"I want to be a solution."
Eman
"Thank God There's A Program Like This"
Life's detours altered the course of Eman's life. She earned a bachelors degree in special education and worked both as a teacher and a community center assistant.
However, her father's death, marriage, motherhood and a debilitating car accident all changed the direction of her career.
After choosing to be a stay-at-home mom, a driver rear-ended her, severely curbing the right-handed woman's ability to use her right arm.
"Different circumstances in my life put my career on hold," Eman said. "Financial issues, changes in the family circumstances and my injury brought me to a standstill in my career."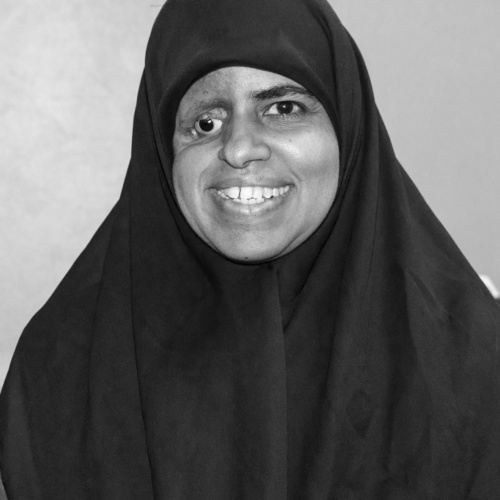 After going through therapy, she's strong enough to function in the workplace, but she needed help to get back on track. The job service program that once assisted her no longer exists and staffing agencies aren't as plentiful.
Eman said she felt like the message was to go online and find yourself a job, but she wanted assistance in determining how much she could handle. Her search for a jobs program led her to ECHO's Job for Job class.
"I found it by watching the news one morning," Eman said. "There was a clip about the program right here, where I live in Brandon. It's great motivation, a great opportunity and it's great people to help someone like me trying to get a leg up again."
Eman is driven to re-enter the workforce because her son has entered high school and she wants to begin saving for his college years. She once put her own plans for graduate school on hold, but she's determined to help him fulfill his dreams.
"Our income with my husband is limited," Eman said. "He's covering all the bills, but I have to think how do I pay for my son's college education. For him, I have to get out of bed. I gotta go. I can't be hurt anymore. He motivated me."
More than the job training, Eman said she appreciates the sense of community support ECHO staff members have lent. She said she needed to know somebody cares, somebody wants her to succeed.
"Thank God there's a program like this."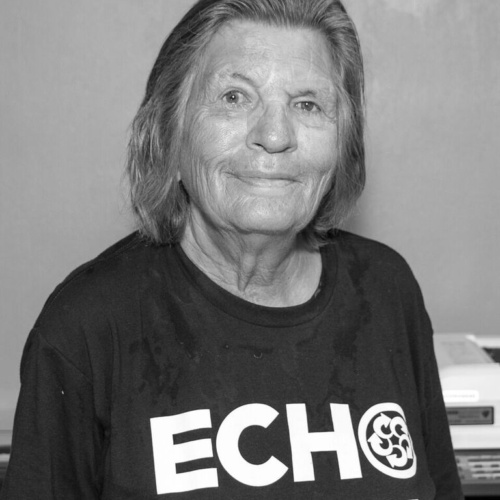 Fontaine
"I've Always Helped People"
From floral shops to retail outlets to business associations to distribution centers, Fontaine's search for gainful employment has taken her on quite the journey since she arrived in Florida in 2003.
But she blossomed in a different way when an AARP program brought her to ECHO. Through the lessons she picked up in ECHO's training programs and a determination to give, "1,000 percent," Fontaine has gone from bouncing to different jobs to bouncing around on the Internet.
She now serves the organization as its eBay coordinator, selling items online to help generate funds for ECHO.
"We get donations here and I take pictures," Fontaine explained. "I list them on eBay and I sell them.
"I make a lot of money for ECHO," Fontaine added with a matter of fact tone. "They buy food and different things for clients with the money."
Fontaine also helps with job fairs and works in ECHO's food pantry packing foods for clients. In all cases, she's allowed to work independently and does her own troubleshooting if a problem arises with an eBay sale.
She says dedication has been a trademark in all the jobs she's held. After working in floral shops for 11 years in New York City, Fontaine and a companion came to Florida with the hopes of opening a successful floral shop, but they discovered that here the competition from grocery stores made succeeding as a florist difficult.
She continued to find jobs, but the recession and the challenge of transportation — sometimes long bus rides made it difficult for her to arrive on time — created more challenges.
Now, at ECHO, she's found a job she can do, an atmosphere she loves and a cause she can support.
"I'm comfortable, the people are nice, there's no pressure and you work at your own speed," Fontaine shared. "I feel good about it. I go out of my way to go the extra mile on all my jobs. I've always had jobs that involved helping people."
"I've always helped people."
Frank
"It's A Blessing"
If the doctors had correctly diagnosed Frank, he may have never developed into an artisan for ECHO's social enterprise: ECHO Handmade.
Oncologists diagnosed Frank with stomach cancer and said he had only six months to live. He survived that dire prediction, but still struggled as he battled the dreaded disease.
"Going through chemo is not a fun thing,"  Frank said. "You get sick, you get weak, you get depressed. It all hit me at one time. I lost my job."
Frank needed help, so he came to ECHO and eventually enrolled in the organization's Job for Job program. He learned how to write resumes, conduct himself in interviews, ask the right questions and deliver the right answers.
"It's a great program, don't get me wrong," Frank said with a grin. "But I asked the wrong questions."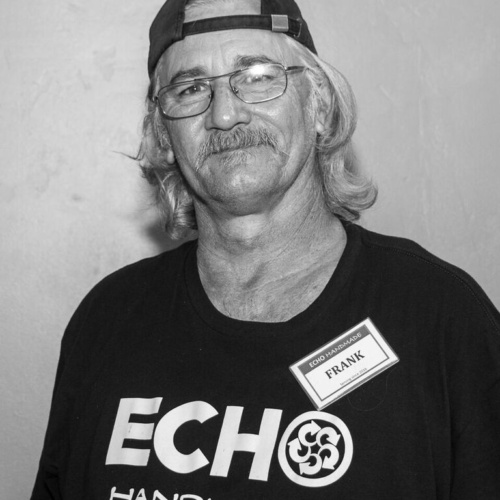 Despite that inauspicious start, ECHO gave him a role in its new upcycling business after earning a grant. He took to it immediately, even though he had never produced leather goods.
Now he turns donated leather belts, serving trays and pans into artful wristbands with metal fixtures, but he can't call them bands.
"They want me to say the word, 'cuffs' because it's 'chic,'" Frank said wryly. "But I love doing what I'm doing. I work by myself, and they don't mess with me."
Frank has spent his days creating the cuffs behind the ECHO headquarters on an outdoor workbench, but the organization soon hopes to provide him with an indoor space. He's made more than 350 cuffs and hopes to learn additional artistic skills, especially now that doctors declared him cancer free.
He continues to be inspired by the creations, and the kindness shown by the ECHO staff.
"ECHO is exactly that — emergency, care, and help," Frank said. "I'm not about the emergency, but I'm about the care and help. I help anytime I can.  What's it meant to me? Happiness.
"It's a blessing."